One question we get asked alot is, "what size snowstakes should we use?" you need to consider price and functionality. If 5 foot snow stakes or 6 foot snow stakes are out of your budget, then go with the 4 ft snow stakes. Always read the listing of the product before you buy. As always we welcome phone calls to answer any questions you may have.
---
its getting cold out ther! brrrr that means its time to get ready for some snow. some of our neighbors to the North in Canada and around the world have already been ordering and installing for weeks. its time for you to order and install and not be left out in the cold without the proper snow markers. Cyber Monday until midnight we will be running a sale at snowstakesonline.com you can also reach us with any questions at 877.841.5782 or 508.509.3372  this sale is available after your purchase of 100   please use the following code at checkout cyber20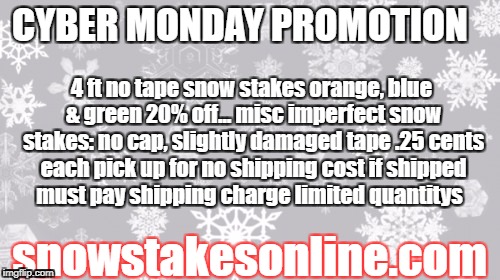 ---
SMALL BUSINESS SATURDAY SALE
10% off your total order of $100.00 or more
***offer good for first 100 orders***
---
Its getting cold out there! Time to install your #snowstakes call us at 508.509.3372 or visit our website and order @www.usdiscountproducts.com as always we thank you for your business!
---
Fiberglass #SnowStakes are made to last in any snow, or any weather change. Our snow stakes are of the highest quality and are great for other purposes such as driveway markers, land and survey marking, walk-way and crowd control, landscaping and more. Our snow stakes come in four colors, orange,yellow, green and blue, although our orange snow stakes are the most popular. Available in 4ft, 5ft, 6ft and 8ft lengths, our US Discount Products snow stakes ship via UPS within 24 hours and arrive within days of your order. Make sure to buy the rubber mallet to ensure protection of your fiberglass stake.
Don't experience high-cost property damage and don't be fooled by low-cost imitations. Use US Discount Products snow stakes to mark off your property perimeter. Get ready for winter months by marking your driveway, streets, sidewalks and anywhere damage can occur or path visibility is need. Order extra and let us know of new ways you found to use our quality snow stakes.